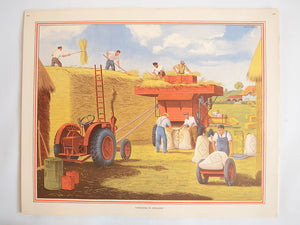 Macmillan (1949)
Macmillan's Teaching in Practice Primary Education Classroom Poster: No 105 - Threshing in England
Macmillan's Teaching in Practice Primary Education Classroom Poster: No 105 - Threshing in England
These wonderful illustrated posters were produced for display in the classroom as an accompaniment to a seven-volume 'encyclopaedia of modern methods of teaching in the primary school' first published by Macmillan in 1932. This particular poster accompanied the 1949 edition.
This poster is in excellent condition with no creases, marks or other blemishes, but may contain some puncture marks on top outer edge resulting from binding / classroom display.
Size:  53.5 x 43.5cms (21 x 17 inches).
Posters shipped in rigid poster tube.
---
More from this collection